MY ADVISE FOR EDO PEOPLE IN THIS COMING ELECTION….. DR. SAMUEL OSAIGBOVO OGBEMUDIA
Former two-time governor of old Bendel State, Dr. Samuel Osaigbovo Ogbemudia is an elder states man. Many people have been waiting to hear from him to know his stand on this forth coming election in Edo state. In this Exclusive Interview with SUNDAY ADEBAYO, he expresses his belief and assessments of the present Edo state government, and also analyze the likely outcome of the coming election… Excerpt.
 What is your assessment of the present Edo state government?
Well having been there by qualification, assessing them is that I have been there before and I know the problems and I understand some of their approaches taking the totality of what I know, the man, Adams Oshiomole has performed extremely well and that is why I decided to defend him, and that is why I give him all my support and that is why whatever he does, I look at it against the background of the difficulties which myself passed through. So from the point of view of development, he has done the best he could, but that doesn't mean he could not do better maybe because there was not enough money.
 For those ones that you think he has not done well, was it that you were not able to brief him about the major problem of the Benin people when he came in?
There is no one that he has not done well, there is nothing I asked him to do that he didn't do, after looking at the totality of the problems of what I experienced myself, Oshiomole has done wonderfully well.
 Looking  at the activities that trailed during the APC primary that lead to the emergence of Obaseki, do you think the party is united enough to win this election?
Well I cannot speak on that because I was not at the primary, secondly I only read about it in the newspaper and perhaps the rumor here and there by people who attended and those who didn't attend and there was great variation between the story being tabled by those who attended and those who heard it, so we don't know which one to believe, but my believe is that if people appreciate goodness in anybody, they should appreciate what Oshiomole has done in this state because if other previous governors have done as much, he would have gone higher than he did now. So far as I am concern I think that people if they look at what Oshiomole has done against the background of what people did in the past, they will vote for APC.
Now Obaseki promised that if he comes in, he is going to provide over 200,000 jobs but people were now speculating, asking the question that when he was the head of economic team in Edo state, he was not able to provide anything of such. Do you think in your own opinion, looking at the present governance with your approval of Oshiomole great performance, do you think Obaseki is up to the task of the promise he is making?
Firstly, Obaseki is not  in my view a politician, he is not a professional politician, he is a technocrat  and in his position as a technocrat, he has information on all the affairs of government, as to whether he could have done that as technocrat, advising the governor, the ultimate responsibility for the job to be done is that of the governor, he may have recommended and the governor did not see it as a priority, so you cannot blame him, when he comes from what I have had in discussion with him and I was convinced that he knew where the pendulum was swinging, he knew where he was going  because his objectives were very clear to him and he's also not mindful of the fact that while he is looking straight at the objectives, there are many intervening obstacles, diversional obstacles on the way, and he is prepared to negotiate them. So it is that ability that gives him credit over his opponent.
Looking at when you used to be the governor of the old Bende, bringing together Edo state, Delta state and the couple of other states that you manage then, Things were going right, there was no much complain about running the government, but now what is your assessment of the crisis rocking PDP in Edo state right now?
The only word I've always used is mismanagement of victory, when a political party of substance going to election whether win, victory or defeat, must set up a committee to access their performance and see where things went wrong, whether PDP did it or not, I don't know but not to my knowledge if they did, that notwithstanding its management of victory was not and I think too that the people themselves were tired of hearing the same voice every day, the issue of change came into focus.
Do you think pastor Osagie Ize Iyamu had the political sagacity to perform better than Oshiomole if he eventually becomes the governor of Edo state?
Pastor Osagie Ize Iyamu is my son, his father was my own father, so when the man was leaving, he said look after your son for me, pastor Osagie has tremendous energy unquestionable in credentials that he can use, but he is on a shaken platform, probably if he was in APC, there would be no problem, he would by now be celebrating, if he was in another party, probably he would be celebrating. But first, he had to kill two birds with one stone, he had to reactivate the reputation of the PDP and then take advantage of it to ask them to vote for him but he cannot do the two together because correcting the hills of the past and calling them to order, by the time they finish, the vote is over. But as a person you can't beat him, he is a first class fellow and I will go with him anywhere.
So what you are telling us now is that come this election which is drawing close by, if past Ize Iyamu Can rectify some loop holes that you think  are the problems of PDP in Edo state, do you think he has a higher chance of becoming the next governor of Edo state?
If there are two people that he has to do this to, he has to do this to the elites who at their drinking base, they criticize not himself but his party, then he have to do it to the population, and those population, the majority, card bearers who can vote, the elites their voice he will hear so loud every day, they are minority, so it is not something you can do in one month or two month if he still remain in PDP correct the hills of the past, he will be on top but whether he can do everything together before next two month election is what I don't know.
Okay recently when the PDP want to have their gathering at Ogbemudia Stadium, there was an information that the governor instruct that they don't have their campaign at that stadium, do you have any idea ?
No I never heard , the truth is this that as at today the government is the caretaker and trustee of the  stadium, the stadium belong to the people, so it is for them to say yes, this man coming to the stadium, will it be in our own benefit or against us? So they take a decision and that in the decision influences the reply to its letter,  that is what it is. But I believe that when government refuse to allow them to organize at the stadium, the generality of the people who would normally have gone to the stadium didn't feel too good about it, so they might decide to punish government for it, so you don't know where the pendulum is swinging but its important for people like us, it should not have been rejected the refused to the use of the stadium because that will not add any much value to whatever they are doing, but by refusing it, it has added value to it.
How can you compare politics in Edo state, the way it is practiced now and the way it was practiced when you were priviledge to be at the realms of power?
Yes remember I was the governor at a time when I was a military officer, I was only on posting by the supreme headquarter to Benin. I didn't win any election but when I came back and decided to seek election I won because I told them to allow me finish the unfinished job and they agreed and I won so comparing the two, you will find that there is quite monumental difference
What is your advice for Edo people in this drawing near election?
My advice is this, if what they told me in the past and with my experience that they want development, they don't want their money to be spent paying lawyers and going to court every day, then they must pick the person whose chances are better because every person has a way of accessing , for example I had a meeting here yesterday and I said to them, here is a paper for about 200 people, write down which party you think we should affiliate with, since we are not in politics, they all wrote down, over 100 voted for one party, six voted for one, two voted for one. So if you sent such people to the poll, they will all vote for A, what is in their mind is different, and they will go there.
How far will you tell us you have gone with Samuel Ogbemudia foundation?
Good, over the years I have been a victim of diabetic and from tablets, I progress to insulin injection and I started this 1970 and I started injection 1980 and I didn't want other people to suffer the same thing because of lack of information, more importantly the diet that can easily cure the problem. So I got together experts who are prepared to help, some of them in America, some in Canada and some in Great Britain. So we set up Ogbemudia foundation to purely accomplish three things, the first is good governance, the second is youth empowerment and detect its non-communicable diseases, from the diabetic information we are putting together and talking to people on what they need to know. Sometimes I address people and at the end of it, I tell if they have diabetics.  And it is going on gradually. But those who are going to help me are yet to come.
Since the beginning of the foundation, how much assistance or donations or help have you received from people that you have sent letters to or you can call to help curb fight the pulse?
We have not gone out, but the present Delta state government has been helpful. When he was coming, he brought a cheque of five million to the foundation, Oshiomole promised to help and am hoping that once the problem on hand is sorted out, he will do something. There are many people we've talk to, but we have not asked for help, and when I have got all those information and those visitors have come and put down what they can do, then I will know what I need and ask people to assist us.
So far will you say you have been receiving response from people in terms of visitation, and feedbacks?
Oh yes, a lot of people, our doctors go about talking to people, counseling them on what to use, and what to kind of food to eat because not everybody  can afford insulin of 11,000, to avoid insulin you must take diet that will perform  the same function.
 A diversion from the foundation now, if anybody look at you some people will still think daddy is 70 or 75, but even looking at your present health condition over the years and the fact that you can no longer walk and run the way you used to do some years ago, what would you say you've been doing that is making you looks so good like this sir?
Well, credits goes to that lady (pointed at his wife Mrs Yetunde Ogbemudia), but apart from that, In 1953, I was  admitted into hospital and the doctor diagnosed me of Amoebic dysentery  and I spent twenty one days, but when I had my accident in August 5, 2010, I break my leg and I have to move from one operation to another, and apart from that leg, well so far am alright, I can see, I can move about with my walking stick but better than it was a year ago, so gradually the thing is coming up, because the doctor told me that I am suffering from incurable disease and when I asked him, he said old age and he asked me whether I've seen anybody who cured old age, I said no then he must keep off with it.
Looking at how far you have come, when you were born till now, what would you advice the younger generations who are aiming higher to be in the position of good health and proper understanding with their creator, what will be your advice for them?
My advice is simple, when I was a boy, an elder cousin of mine pass his junior Cambridge, we had a wake keeping to thank God that he was able to get to that standard, but since then, there have been PHDs, nobody worries about it, we have made tremendous progress to the young men of today to be able to  catch  up and keep himself and family together, he must educate himself, because education has no age limits, that is the invoice of continuing education and it means that there is no end. Sometime ago, I witnessed the graduation of open university in London and one of the graduates was 94 years old, and when the press asked him at the age of 94, what are you still doing? He said I have always wanted to be educated. Sometime in 1969, I was the sole administrator of the Nigerian Airway and I advertised for an accountant and twenty five thousand people applied and we set up a criteria to screen the application  and we finally came to a hundred and we have to be looking for criteria to reduce it. But finally out of that hundred, there were six with master's degree, there were two with a PHD, so what do you do, do you leave the PHD and take the first degree.  Nigeria should no longer rely on first degree; they should go further and specialize , when I was the governor, I told the  ministry of education , inform all the student ,anybody who comes out of the college with good result in WAEC because one boy from AGBOR had 7As and that's an automatic scholarship, if you got a first class from a university degree, you get automatic scholarship to study for higher degree because the Nigeria of tomorrow is going to be very competitive and it has started, so the youth must learn to concentrate on their studies, stop fighting until they have reach the ultimate.
Would you say you are fulfilled in life?
I am fully fulfilled in many ways, first I never thought that I will ever get here till now. One gentle man brought his insurance paper to me in 1960, he said it will mature in 1975 it was 15 years away and I said I wont take because fifteen years is too far , but eventually I was quest to pay into bank in order to insure myself , on a date in 1975 I received a letter , it said your insurance is due, where do you want the money to be paid into, I regretted not putting  more but I never thought I will witness it mature, two, I never dreamt that one day I will be a governor of a state, Benin state for that matter. three I never thought when I join the army I will be a general , I merely go there to go and do my own work  and God was kind to me and they move me forward and fast. I have had children and God has been kind, not one of them has ever been admitted in the hospital, no one is sick. Where I live, this house I inherited it from my mother and I live here, I did my governor job from this very table so what else do I want, all I have gotten didn't mean anything to my children because they all live at home but my other colleague were told to handover the government house within 24 hours to the new governor, but it didn't happen to me because I just took my own briefcase and return back to my house where I operated from.
More Troubles For Umo Eno As Court Rejects Stay-of-execution Request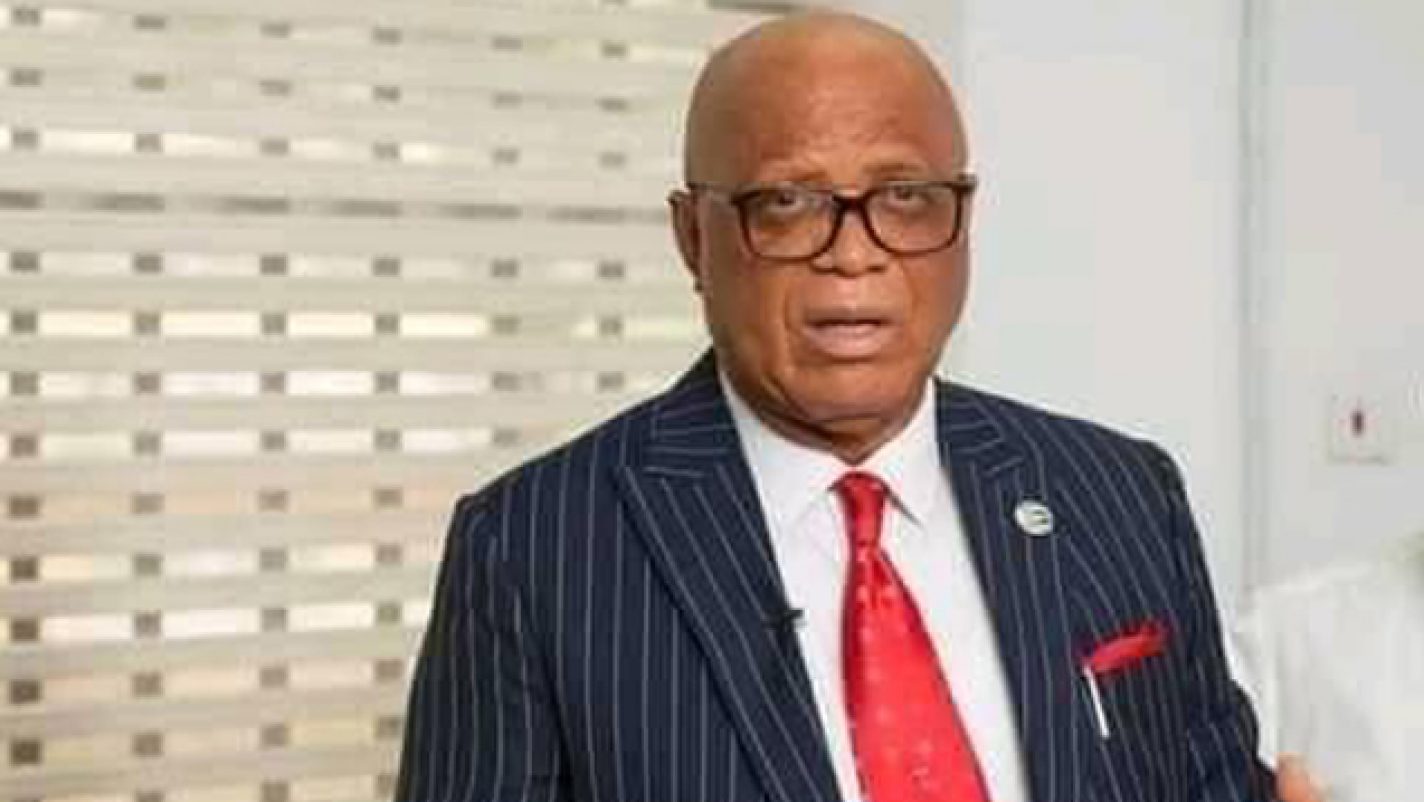 A Federal High Court in Abuja on Tuesday dismissed an application filed by Pastor Umo Eno seeking a stay-of-execution of the Order which had nullified his nomination as the PDP governorship candidate in Akwa Ibom State.
The court which nullified Eno's nomination, ordered that he should be replaced with Rt. Hon. Michael Enyong as the authentic PDP candidate.
In throwing out the request for stay of execution, the Court ruled that Umo Eno was never a party to the case filed by Enyong, and so his request could not be entertained by the COurt. The court therefore described Umo Eno as ''meddlesome interloper'' for seeking to file an application in a matter he was never a party of.
Recall that in a judgement delivered on January 20, Justice Fadima Aminu of the FHC, Abuja, had ordered the PDP to submit Enyong's name to INEC as its candidate. In a suit marked FHC/ABJ/CS/1295/2022 filed in August, Enyong had submitted that he won the party's primary held on May 25. The defendant in the case was PDP. Enyong did not join Eno as a party in his case. How clever!
This means that it is only the PDP that has the locus to file an appeal or stay of execution application against the judgement which sacked Eno. So far, the PDP's National Legal Adviser (NLA) is not willing to participate in the matter especially since he was never carried along in all the Umo Eno legal matters. Rather, the Akwa Ibom State Chapter of the Party had always engaged Barr. Emmanuel Enoidem (the former NLA) as its legal counsel, totally sidelining the current National Legal Adviser. Recall also that the PDP National Legal Adviser had a few weeks ago issued a public statement announcing that it is only the NLA that has the authority to brief and engage lawyers holding briefs for the party. The public statement had also warned party members to desist from engaging lawyers without his knowledge.
Meantime, I understand that Enyong's lawyers had served INEC with the Court order and his name would soon be published by the electoral umpire as PDP's authentic governorship candidate.
My Take:
1. The chances of Umo Eno returning to his former status as the governorship candidate is very, very slim. It probably will not happen.
2. Gov. Udom Emmanuel and the PDP have yet to come to terms with the fact that Umo Eno's name has been deleted as the candidate. They are inconsolable in anger, grief and pain. ''They are experiencing a great sense of separation, akin to the overwhelming feeling of loss which one experiences when he is bereaved'', says a political analyst and business man, Elder Aniefiok Isatt.
3. This development is also the greatest setback and the most devastating blow the PDP has ever suffered in the state since 1999. This case might just be some kind of ''Nunc Dimittis'' for the PDP in the State.
4. Privatively, PDP stalwarts are quick to blame the governor for the woes that has befallen the party this season. They believe that by imposing a very unpopular person as the candidate, the governor had bruised and hurt the majority of the members.
5. The question many are pondering is: Will Udom Emmanuel take to Enyong and accept him as the PDP candidate, thus conceding that Umo Eno was never God's revelation, contrary to what he told the people; or will the governor leave Enyong to his own devices and embrace a different person?
Our Client Wanted To Say 'Pupsy', Not Her Private Parts — Lawyer Defends Embattled Nigerian Polytechnic Female Graduate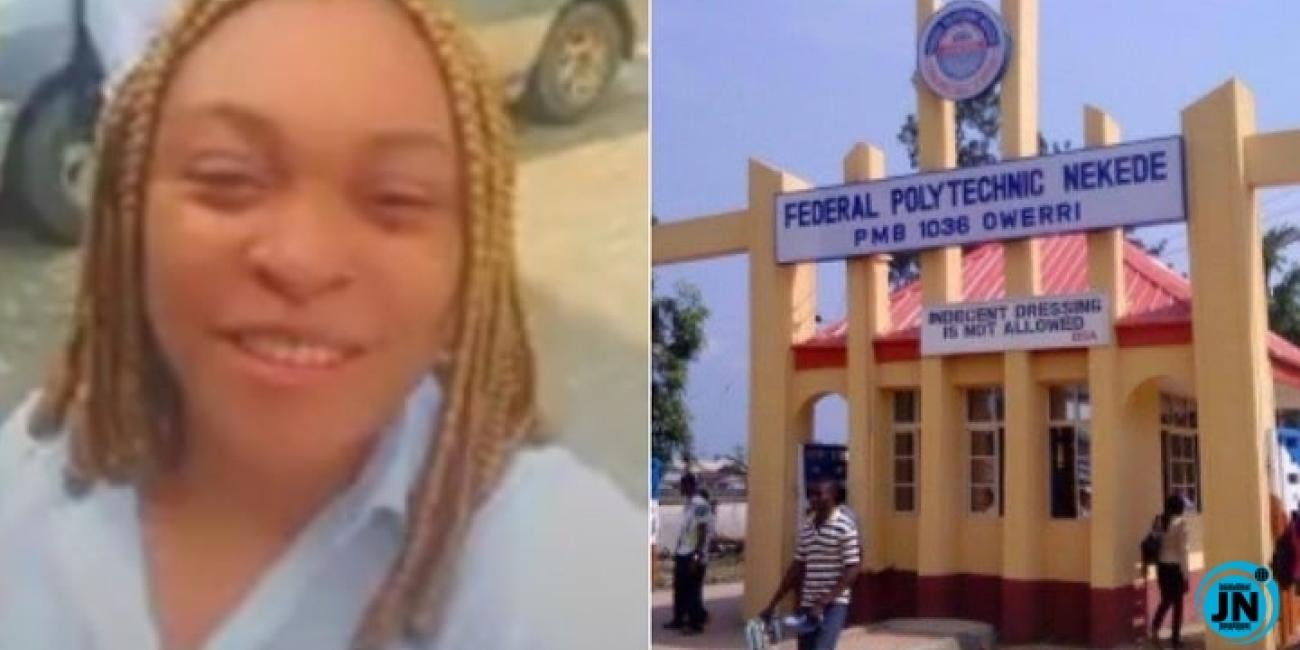 Barrister Ikechukwu Nwaopara, a legal practitioner representing the interest of Sharon Ogechi Okoroafor, the graduating student of the Federal Polytechnic Nekede, Owerri, Imo State, who went viral on social media for saying that she graduated with the help of God and her private parts, has said his client was misinterpreted.
The lawyer, who made the appeal to the institution's management in a statement made available to newsmen, claimed that their client had no intention of disparaging the institution's reputation, standards or integrity.
The statement reads: "We are solicitors to OKOROAFOR OGECHI SHARON (our client under our Pro Bono (Free Legal Services) on whose behalf we write this memo to you.
"We are aware that she will be facing the school disciplinary panel this morning, and we wish to use this medium to express our confidence that the panel will carry out their duties in compliance with the principles of Fair hearing, good conscience and natural justice, devoid of harassment, intimidation, and threats.
"We have met and discussed with our Client and evidence before us shows that she has no intention to defame the character, standard and integrity of the institution. In her words what happened in the said viral video was a slip of tongue as a result of her uncontrollable ecstasy over her graduation. Her intended words were "God and Pupsy" in appreciation of the Almighty God and her dad.
"It is clear, therefore, that she had no intention whatsoever to use such a "foul word" in the said viral video to cajole or blackmail the institution, as no lecturer or name of the institution was mentioned or referred to in the said viral video.
"Our lawyers are already on ground at the institution now to follow up the proceedings at the panel against any form of intimidation or harassment. The integrity and standard of the said institution is not in doubt especially since my senior brother, Rev Dr Arimanwa took over as the Rector. Indeed, justice is for all parties."
We had reported that after Sharon's video went viral on the internet, the management of the institution announced that it would investigate her action as it was capable of dragging the reputation of the school to the mud.
Alleged N1.4bn Fraud: Witness Reveals How Kogi Assembly Candidate, Atumeyi Fraudulently Benefitted N681m from Union Bank Customers' Accounts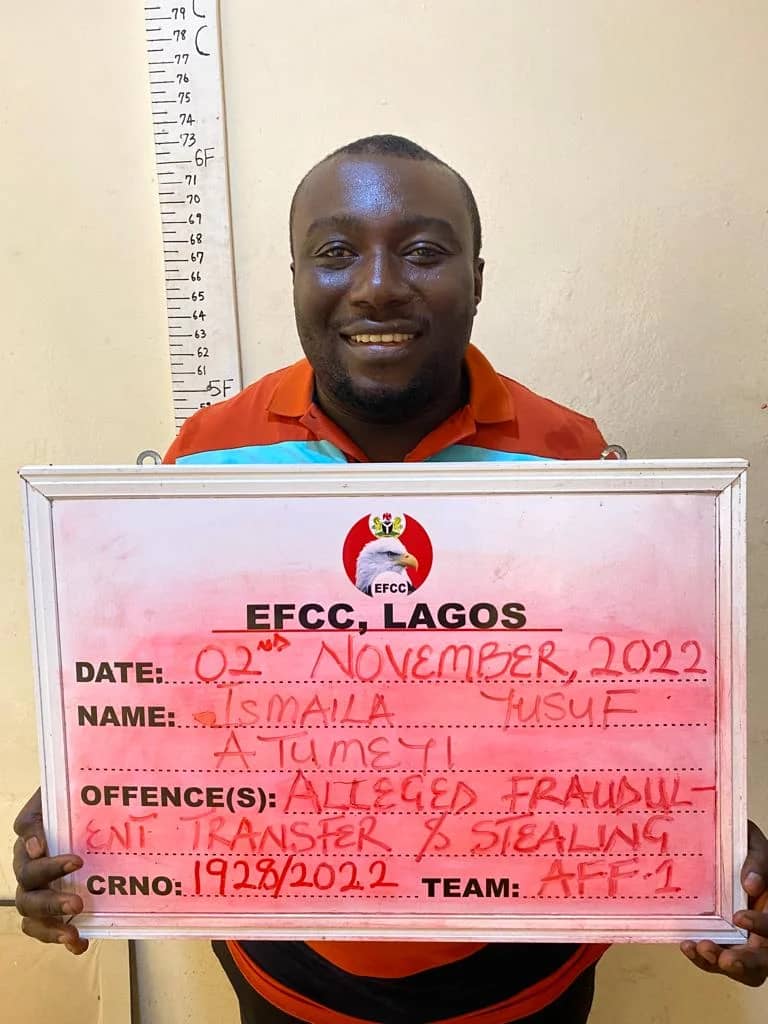 The first prosecution witness, PW1, Olusegun Falola, in the ongoing trial of Ismaila Yousouf Atumeyi, a Kogi State House of Assembly candidate of the New Nigeria Peoples Party, NNPP, and two others, on Monday, January 31, 2023, told Justice Tijani Ringim of the Federal High Court sitting in Ikoyi, Lagos how the sum of N681m (Six Hundred and Eighty-one Million Naira) was paid into Atumeyi's business account.
Atumeyi is standing trial alongside Ngene Joshua Dominic and Abdulmalik Salau, a former employee of Union Bank Plc, on an 18-count charge bordering on alleged cybercrime and money laundering to the tune of N1.4bn.
Led in evidence by the prosecution counsel, Rotimi Oyedepo, SAN, Falola, an Internal Auditor and Team Lead, General Investigations, Union Bank Plc, told the court that "sometime in October 2022, during the periodic internal review of accounts of customers, we observed that some accounts that were placed on No-debit were debited.
"In the course of our review, it was observed that the methodology employed in debiting the said accounts was different from the way accounts are being debited in the normal banking activity.
"Based on this, the case was assigned to me for further internal investigation. During the review, I observed that beyond the few accounts that were referred to me for investigation, there were other numerous accounts that were being debited.
"Furthermore, the debits on these accounts were traced to two beneficiaries, Atus Homes Limited account and Fav Oil and Gas Limited.
"These two accounts received the sum of N681m and N1.38bn, respectively from the account of 429 customers."
He also told the court that further investigations revealed that Atumeyi is the signatory to the Atus Homes Limited account, while the signatories to Fav Oil and Gas are Shuaibu Yusuf and Nurudeen.
According to him, all illicit debits on the customers' accounts were done via internet banking on one of the bank's platforms known as Union 360.
Giving further testimony, he said: "As at the time of investigation, over 600m had been withdrawn from the account of Atus Homes Limited and over N800m withdrawn from Fav Oil and Gas.
"We also realized that they were able to make those fraudulent transfers because the bank system was fraudulently manipulated.
"It was this realization that made us know that only a person with privileged information on the bank's information technology could have carried out such illicit transactions.
"It was based on that knowledge that we reported the matter to the EFCC for further investigation."
Oyedepo sought to tender the petition written to the EFCC, the correspondences between EFCC and the bank as well as the defendants' statements of account that had been identified by the PW1.
However, counsel to the third defendant, Babatunde Ogunwo, objected to the admissibility of the attached statement of account on the grounds that the prosecution had not sufficiently complied with Section 84 (2) 2(4) of the Evidence Act.
"I strongly believe that the prosecution has not satisfied the provisions of Section 84 (2) 2(4) of the Evidence Act. All I heard the witness say is questions put to him by the prosecution.
"However Section 84(2) of the Evidence Act gives conditions more than what the witness has stated.
"There are four legs as stated by the Evidence Act and the witness has only answered one. These conditions have to be complied with.
"I humbly submit that the prosecution has not complied with the conditions stated for the admissibility of the statements of account", Ogunwo argued.
Responding, Oyedepo said that the argument of the defence counsel was misconceived and also missed its target.
He, therefore, urged the court to discountenance the objection of the defence.
He also submitted that the certificate of identification as enshrined in the Section of the Evidence Act "is not a ritual that must be performed in achieving admissibility of computer-generated evidences."
He further argued that "where the issue is as to the failure to comply with procedural steps towards admissibility, the order the court will make is not to reject the document, but to urge the tendering party to regularize.
"This document is relevant in the determination of this matter and I urge my Lord to so hold."
In a short ruling, Justice Ringim overruled the objection of the defence and admitted the evidence in exhibit.
Justice Ringim also granted the second defendant, Dominic, bail on the same terms of the 3rd defendant, as granted on January 6, 2023.
The matter was adjourned to February 2, 2023 for continuation of trial.