₦2.9 Billion Customer Funds: Customers report frozen accounts over illegal transfers from Flutterwave.. ( + Documents)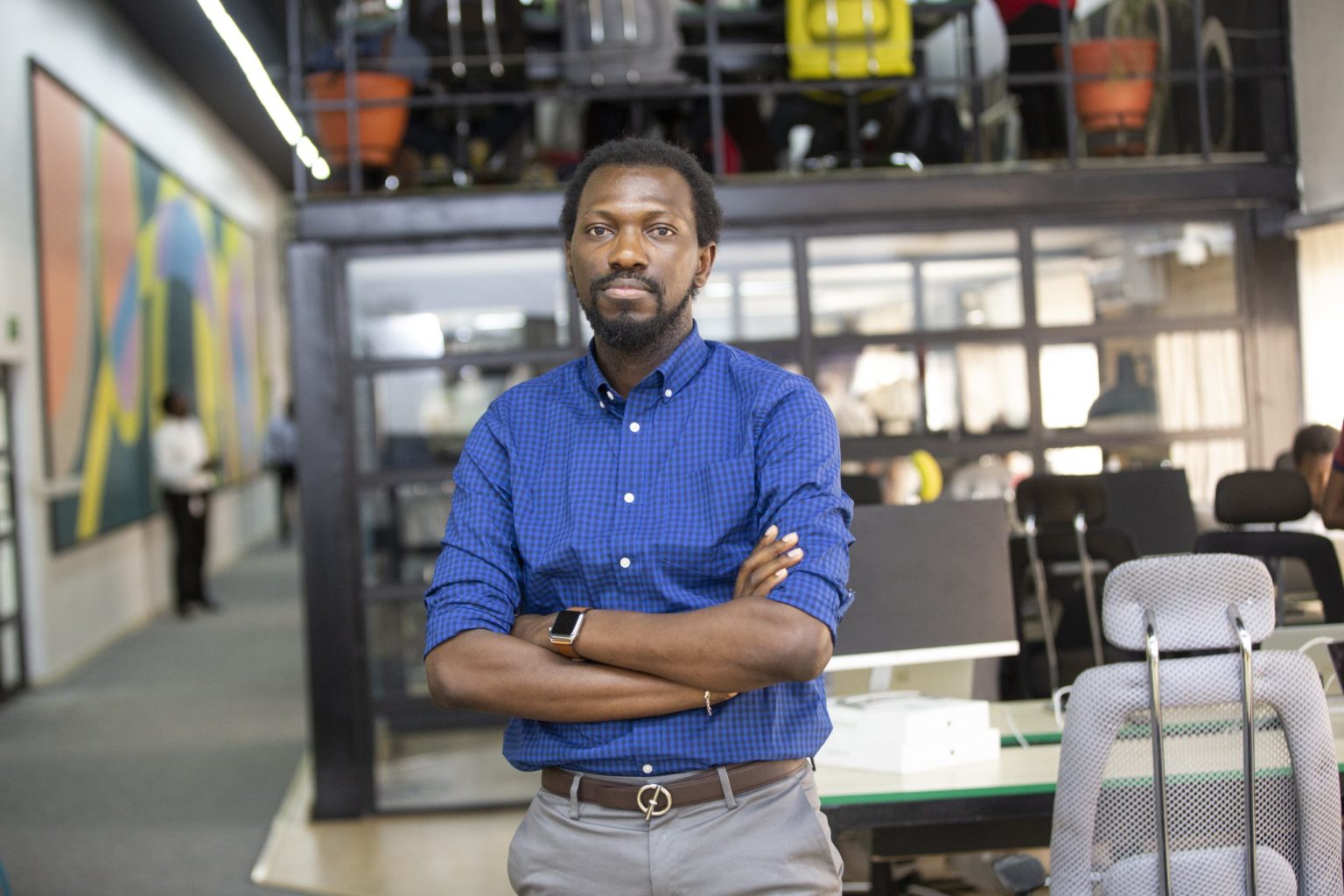 On Sunday, payments fintech Flutterwave denied a report that hackers stole ₦2.9 billion of customer funds. In its response to the story, Flutterwave said it noticed unusual activities in its systems and told users to activate safety protocols. But it insisted that customers did not lose any funds.
However, several sources revealed a different story. One of those sources told this publication that his company lost ₦8 million. Three other sources said their accounts were frozen for being beneficiaries of illegal transfers from Flutterwave accounts.
A call to action
On March 3, 2023, Alex Onyia tweeted about a hack at Flutterwave. Part of his tweet said, "Flutterwave has been hacked by Omar Edewor Trades, who has an account in Access Bank, and several millions of naira have been stolen from people's [Flutterwave] accounts." He advised everyone to get a new API key—one of the safety precautions that Flutterwave asked its users to take two days later.
Onyia is the CEO of Educare, a school management software provider that integrates Flutterwave and Paystack payment technologies into their software for educational institutions and other businesses. On a call with TechCabal, Onyia maintained that money was fraudulently transferred out of the Flutterwave accounts of his clients
through API calls.
He said, "On Thursday, March 2, 2023, I got a message from my account manager at Flutterwave asking if we authorised some transactions. I looked into the matter and was already blaming my dev team. I thought they introduced something new or a backdoor that was triggering the debit. After further investigation, I discovered that
there was no problem with my company and that there was a compromise in Flutterwave's system."
Onyia claimed that the hacker moved ₦4,990,000 out of the client's Flutterwave account first and ₦3,360,000 moments later. "They even initiated a third debit for
₦3,360,000, but the balance wasn't up to that, so it didn't materialise," he said.
Following the money trail
Onyia said that he called Access Bank, where the money had been transferred into an account named Omar Edewor Trades. "We called the bank, but we were told that the
money had been moved to another bank. After sharing the necessary documents, including information about the illegal transaction on Flutterwave, I asked Access Bank to
freeze the account." According to Onyia, while the bank was investigating, it noticed that a lot of money was flowing into that account and immediately froze the
account.
"We asked the bank to send us back our money since there was money in the account and proof that about ₦8 million moved from our account to the fraudster's. The bank
refused, saying that they had no right to, as based on the transaction trail, our money has been moved to a different account." TechCabal could not verify that the
Access Bank account was frozen at the time of this report.
Onyia said that on March 3, Flutterwave asked customers to activate IP whitelisting, a security measure that was previously optional and asked everyone to change their
API keys. "If you know your system was not compromised, why are they asking everyone to take all these measures?"
Flutterwave's response
Flutterwave answers this question in its official statement, saying, "During a routine check of our transaction monitoring system, we identified an unusual trend of
transactions on some users' profiles. Our team immediately launched a review (in line with our standard operating procedure), which revealed that some users who had
not activated some of our recommended security settings might have been susceptible." However, the fintech flatly denied that any user lost any funds, as its security
measures were "able to address the issue before any harm could be done to our users".
But court documents seen by TechCabal raise questions about Flutterwave's version of events. Those documents include certified true copies of a petition by
Fluttewave's legal counsel to the police dated February 20, 2023. The letter asked for police assistance to recover funds by obtaining court orders from the magistrate
court to sustain account freezes on 107 bank accounts in 27 banks that allegedly, directly or indirectly, received money from the illegal transfers from Flutterwave accounts.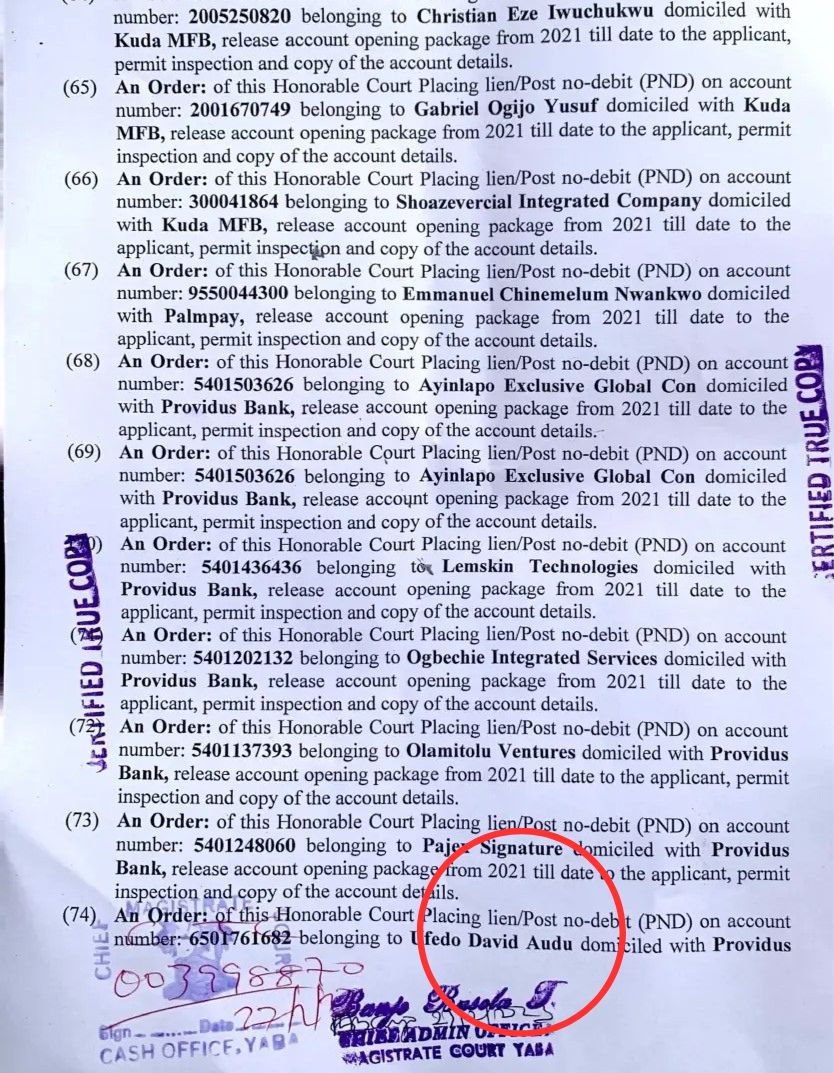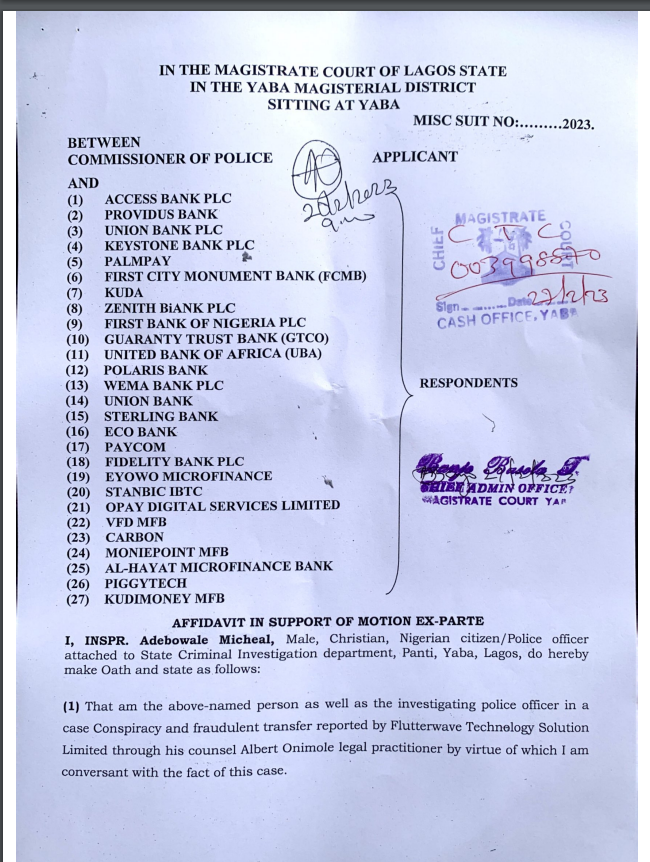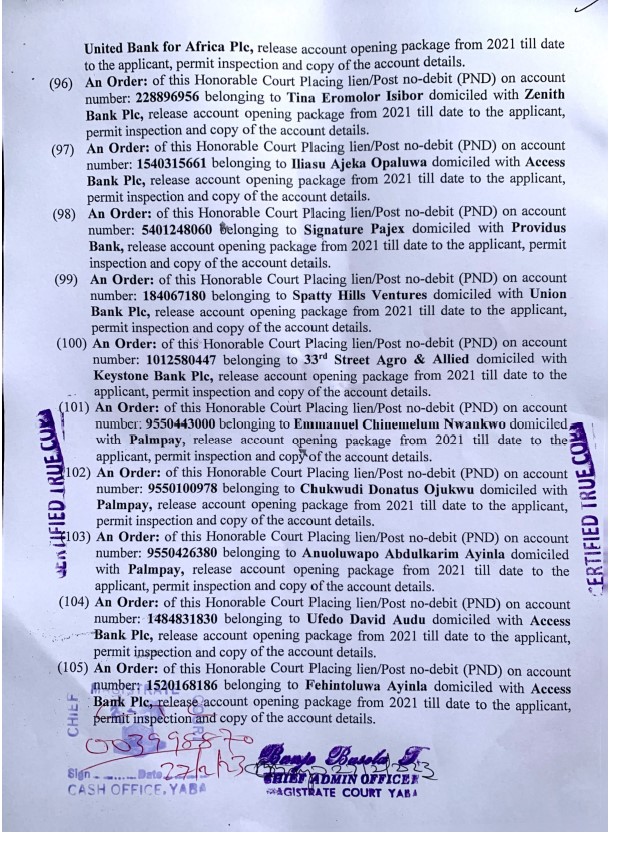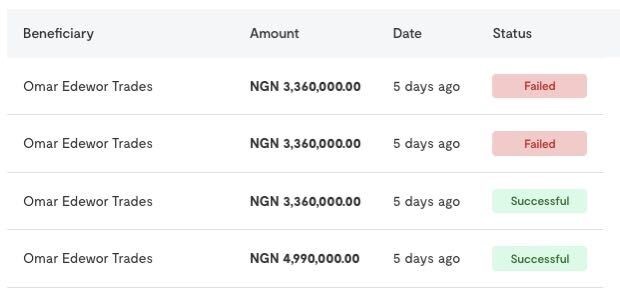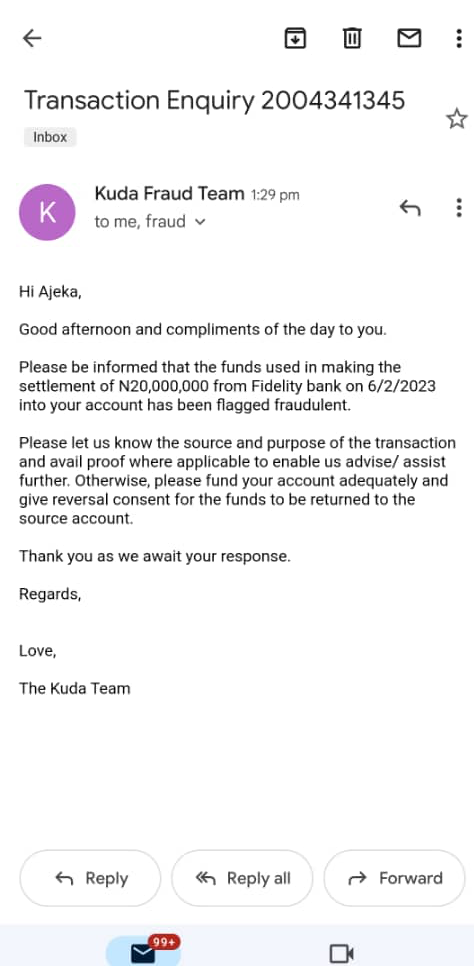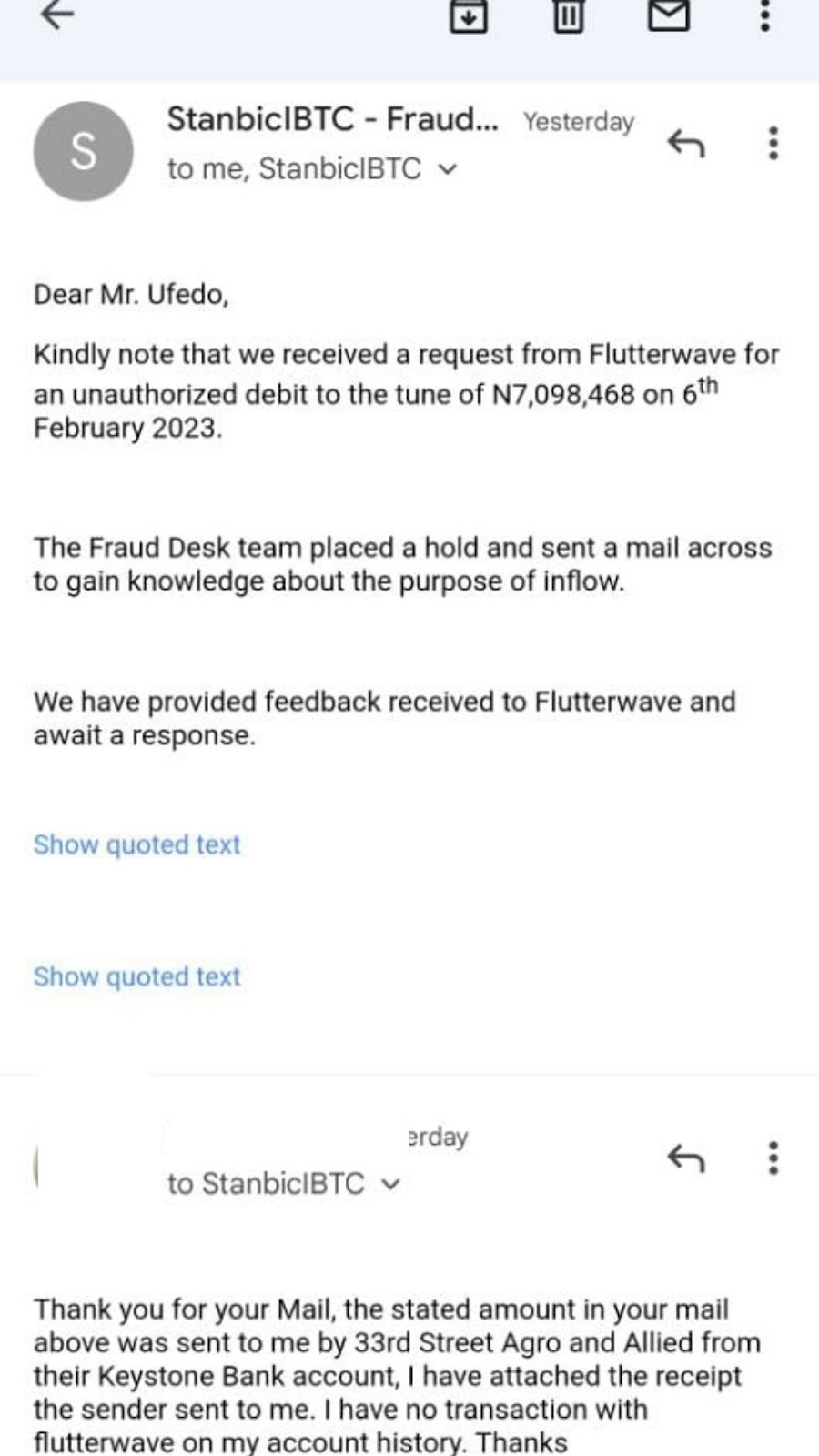 Some of the frozen accounts
Ajeka Iliasu Opaluwa, owner of Pajek Signature, a cryptocurrency trading business, is listed in court documents as a first beneficiary of the illegal transfer from
Flutterwave accounts. A first beneficiary is an account that received a transfer directly from a Flutterwave account. On a call with TechCabal, Opaluwa said, "I sold
USDT worth ₦1.6 billion to William Atong Chen, a Chinese merchant who has been a customer since 2019. When we first transacted five years ago, my partner met him in
Lagos to complete KYC (know your customer). The transactions started on February 5, 2023, and I got paid, just like all the others I have had with him. It was on
February 7, 2023, after the trade had been concluded, that the bank froze my account."
Opaluwa told Chen that the bank had frozen his account. "I asked him to come to the bank and help me resolve the issue, but he said he was no longer in Nigeria. His
Nigerian numbers are still reachable, and when I call him to recount my plight, he insists that he made the transaction in good faith and that it was not stolen money
he sent to me," Opaluwa said on the call.
Opaluwa insists that the Chinese customer's name is William Atong Chen, however, the only Chinese name found on Flutterwave's court document listing bank accounts to
be frozen is Quiang Chen. Opaluwa shared evidence of the transaction with TechCabal. "I made the transaction lawfully. I sourced USDT, and when I saw evidence that I
had been paid, I handed them over. Three days later, somebody comes to tell me that the money I was paid was stolen. Was I supposed to take it to a digital money
detector? How could I have known the money was stolen?" he asked on the call. He told TechCabal that he has filed a petition against Flutterwave as he is also a
victim.
The accounts of other crypto traders who received payments for crypto assets from Opaluwa were also frozen. David Ofedu Audu, whose five bank accounts are listed on
Fluterwave's petition for account freezing, is one of them. Audu told TechCabal that his transactions with Opaluwa started on February 5 and ended on February 7. The
day after, February 8, his five accounts were frozen.
He also shared an email from StanbicIBTC Bank confirming that his accounts were frozen because of the illegal transfers from Flutterwave accounts. His account manager
at Providus Bank, where his accounts were also frozen, cited the same reason for the freeze, on a call.
"I am a second beneficiary because the person who paid me received the money directly from Flutterwave. Opaluwa bought USDT from me for a Chinese customer called
Chen," Audu said on the call. In the court documents, Chen's account is listed as one of the accounts frozen for receiving funds from the impacted Flutterwave
accounts.
TechCabal also spoke to sources whose accounts were blocked but who claimed they had no dealings whatsoever with Flutterwave. Henry Awaka, one such person, told
TechCabal that his Fidelity Bank account was frozen around the same period. He told TechCabal, "I sent several emails to Fidelity Bank but got no response."
He remained in the dark until his friend, who was a second beneficiary, saw his name in the court documents and told him about it. According to the document, Awaka's
Fidelity bank account is a fourth beneficiary and received ₦1,199,291 from an account named Nnam Monday Kingsley at Providus Bank. Awaka said that he traced the
transaction and discovered that it was from a bulk sale of alcoholic drinks—350 crates of Trophy and 27 crates of Budweiser alcoholic drinks.
Awaka is a sales manager at an international brewery and he claimed he makes these sorts of transactions regularly. He didn't suspect that he had become a beneficiary
of some of the N2.9 billion illegally transferred from Flutterwave accounts. He has since emailed his bank several times with the receipt of his transaction but has
received no response. "Fidelity Bank is so complacent about the matter," he said. According to him, there are about 180 people in a Whatsapp group whose accounts have
been frozen after making one legitimate transaction with someone who received money that came from the Flutterwave account.
Source: The Tech Cabal
Appeal Court Reinstates Adeleke As Winner Of Osun Governorship Poll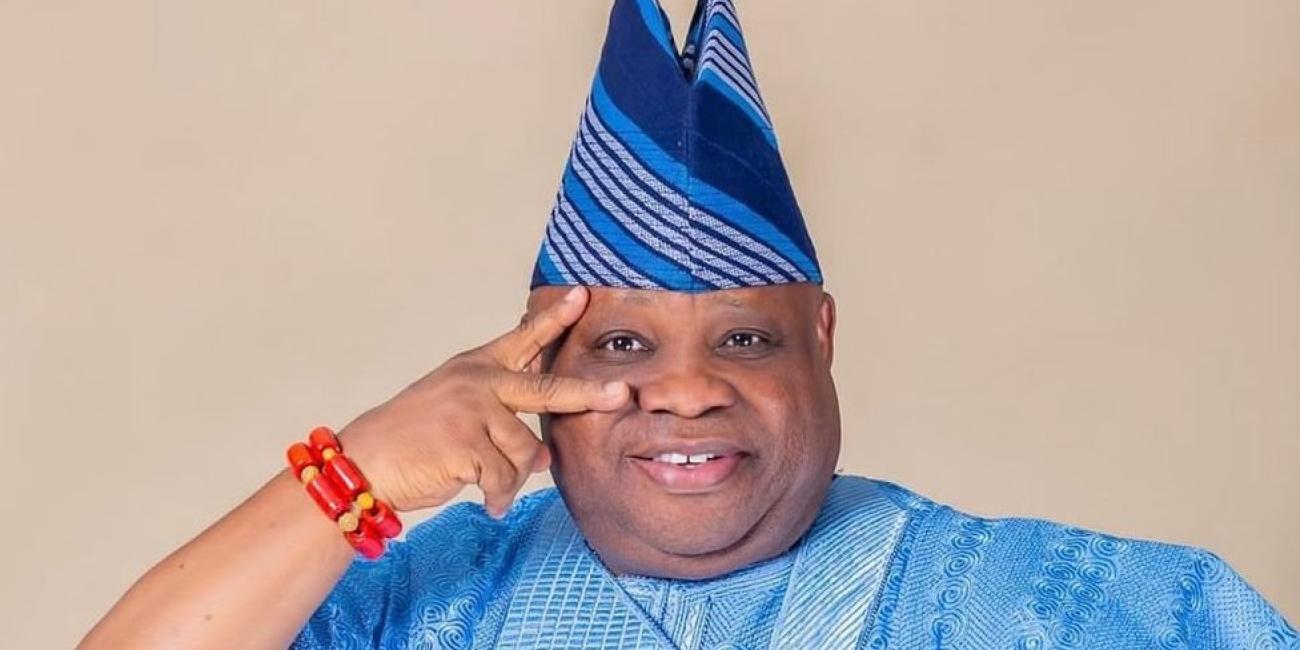 The Court of Appeal in Abuja has ruled that Governor Ademola Adeleke of the Peoples Democratic Party (PDP) is the winner of the Osun state governorship election.
At its sitting on Thursday, the appellate court nullified the judgement of the election tribunal declaring Gboyega Oyetola of the All Progressives Congress (APC) winner of the election.
Oyetola was declared the winner by the election tribunal after he went to court to challenge the victory of Adeleke, as announced by the Independent National Electoral Commission (INEC).
Delivering judgment on January 27, two out of the three-member panel held that the former governor was able to prove that there was over-voting in some of the polling units.
Adeleke had rejected the judgment, describing it as "a miscarriage of justice" and "an unfair interpretation against the will of majority of voters".
In the 31 grounds of appeal, Adeleke begged the court for "an order setting aside the whole decision of the tribunal".
He also sought "an order striking out the petition for want of competence and jurisdiction or in the alternative, an order dismissing the petition on the merit".
Adeleke submitted that the tribunal exhibited bias when it said: "The second respondent cannot 'go lo lo lo lo' and 'buga won' as the duly elected governor of Osun state."
The appellate court, in a unanimous decision by a three-member panel of Justices on Friday, held that the appeal the governor lodged to challenge his sacking by the Osun State Governorship Election Petition Tribunal, was meritorious.
Aside from setting aside the judgement of the tribunal, the court, in its lead judgement that was delivered by Justice Mohammed Lawal, awarded N500,000 cost against APC and its candidate, Oyetola.
Travel Agent, Abioye Abolaji arraigned for visa fraud linked to 77 applicants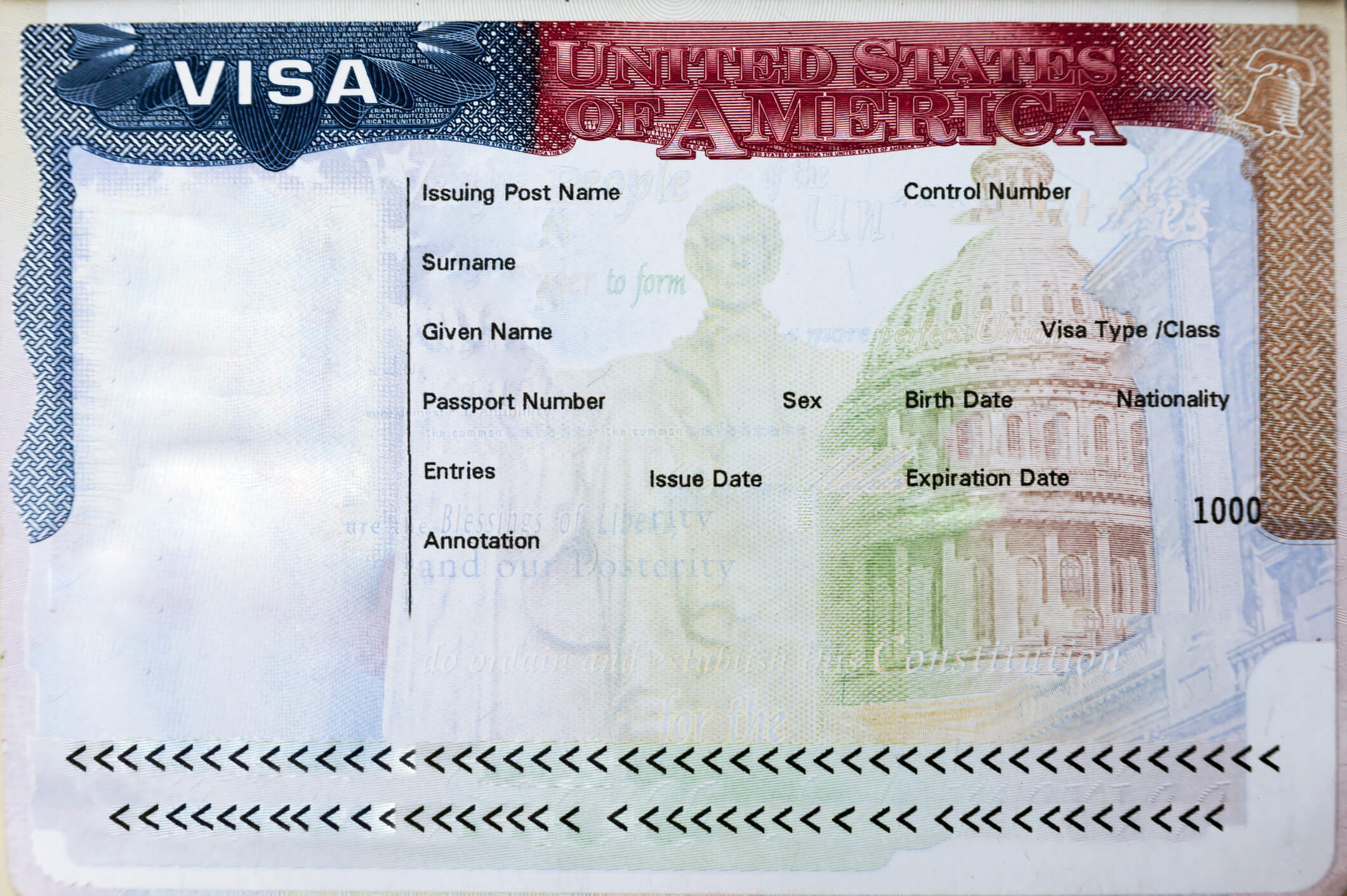 The Police Special Fraud Unit in Lagos State has arraigned a travel agent, Abioye Abolaji, for alleged visa racketeering, including the forging of the United Nations invitation letters for no fewer than 77 visa applicants in the state.
The spokesperson for the PSFU, SP Eyitayo Johnson, in a statement on Thursday, said Abolaji was arraigned on 11 counts bordering on alleged forgery, obtaining money by false pretence, false representation and stealing.
He said, "The arrest of the suspect was in furtherance to a petition from the Diplomatic Security Services Regional Security office at the United States Consulate General, Lagos, which requested a discrete investigation into forged documents submitted by certain C-2 visa applicants to the Non-Immigrant Visa Unit of the USCG. The C-2 visa is an NIV category reserved for participants at United Nations conferences/events.
"An investigation by the USCG and the PSFU into 77 C-2 applications from 24 organisations in Nigeria to attend two separate conferences, including the 67th session of the UN Commission on the Status of Women and the UN 2023 Water Conference scheduled to take place in New York between March 22 and 24, 2023, revealed that most of the applicants are not qualified for the visa classification they applied for because the applicants provided forged UN invitation letters.
"The applicants, who claimed to be employees of Osun and Sons Agricultural Venture, Ray D. Exclusive Electrical Contractor, or ACE Technoresources Integrated Services, planned to attend the UN Water Conference as representatives or nominees of these organisations but investigation revealed that none of the organisations is in consultative status with the UN and that the employment of most of the applicants had no bearing to either of the referenced UN conferences."
Johnson said further information elicited during police interviews of the visa applicants led to the arrest of Abolaji, who was described as the arrowhead of a notorious syndicate that specialised in visa fraud.
"Consequently, the Commissioner of Police, PSFU, Adepoju Ilori, advised prospective visa applicants to desist from patronising document vendors/visa racketeers for the processing of category B-1 and B-2 visas or any other travel documents.
The CP further encouraged applicants to research the procedure/requirements of visa for their intended country of destination or to approach the diplomatic section of the PSFU for guidance in order not to fall victim to visa racketeers. The unit is currently on the trail of other members of the syndicate," the statement said.
I Never Told Anyone That I Will Die Soon – Odumeje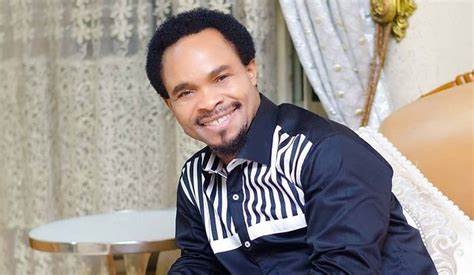 Controversial Anambra-based fiery pastor, Chukwuemeka Ohanaemere, popularly known as Odumeje has dismissed the rumour saying that he declared he would die soon.
Report had emerged that Odumeje, during Sunday service at Mountain of Holy Ghost Intervention and Deliverance Ministry, Onitsha, said he had completed his assignments on earth and was time to go.
The reports also alleged that the death announcement might not be unconnected with the demolition of part of his church recently by the State Government.
According to the reports, while the news came to some members of the congregation as surprise, others wept, saying they don't want him to leave them soon.
But speaking on phone, Okoye described such news as untrue, saying the prophet never instructed his son, David to take care of his house after his death.
She said, is not true (that prophet Odumeje said during Church service last Sunday that he will die soon).
You know that some people when they want to destroy someone's image, they will write something with your name and put it in a YouTube and say that you said it.
The prophet never instructed his son, David to take care of his house and that he will die soon.