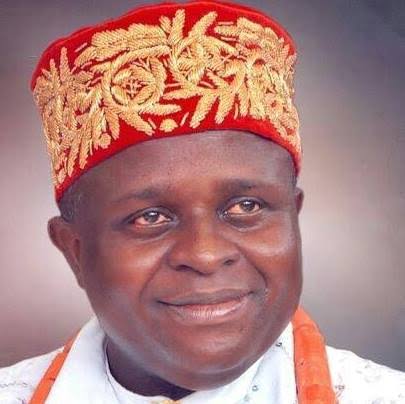 As civilization erodes today's society and as the advent of western culture threatens the African tradition, a paramount ruler in South South region, HRH (Dr) Appolus Chu, Egbere Emere Okori of Eleme kingdom, has called on traditional rulers and care givers across the country, to do well within their power to preserve and promote the African culture.
HRH Chu made this call when he paid a courtesy visit to Chief (Dr) D.U. Edebiri, the Esogban of Benin kingdom, at his palace in Benin, Edo State. He discredited the notion that libation is a fetish practice, and stressed that it is an African traditional means of offering prayers and thanksgiving. According to him, "Libation is prayer, and what do you do when you offer prayer? You pray for progress, success, good health and every good things of life. The drinks that are used are bought from the market and not from the shrine, so also is the palm wine that is used. And as you are praying, you are libating and directing your faith towards your demands and you appease the gods, because we believe the gods are here. It is just like when you go to church and the pastor uses olive oil and water to pray. When the congregation choruses amen, it is agreeing that God has answered the prayer. So, libation is part of our culture, and we shouldn't neglect our culture. The traditional institution of Africa is under a form of blackmail. We are being blackmailed to despise and snub our cultural system.
And we are abandoning our tradition out of ignorance. Today, our children who are now pastors and bishops are propagating the Western religions and snubbing our traditional beliefs and values. As a strong believer in African tradions and culture, I will advocate that we should not see libation as a fetish practice. It is just a form of prayer ad an integral part of our culture," he said.
In his remarks, Chief Edebiri consented to the views of HRH Chu, and presented him with a gift, after which libation was offered. "We believe that when you die, you go to heaven and you meet your ancestors, those who have left before you. They also congregate there, as we do here on earth. And whenever we are doing anything here, we remember them, so that they may be part of what we are doing and bless whatever project we are embarking on. We always pour libation so that our ancestors will partake in whatever we are doing. It has nothing to do with fetish activity. There is no juju when you pour libation. It is your conscience, it is your mind, because you believe that you are coming from a tradition. The tradition is the belief that your parents did it and they lived well. If you do it too, you will live well and die well. So, pouring libation has nothing to do with being fetish. As a matter of fact, in a football match, if a team wins, you will see people opening bottles of champaign to celebrate. That is pouring libation. If your son buys a new car and he brings it home, you pour libation to bless that gift. So, those who say that pouring of libation is fetish are being misled and misinformed. In the African tradition, we pour libation after kolanut, so that our ancestors will bless whatever we want to do," he concluded